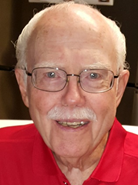 James W. (Jim) Rogers, loving husband and devoted father of two children, passed away on March 1, 2020, surrounded by his loving family at home, at the age of 80.
Jim was born in Highland Park, Michigan on October 13, 1939, to the late Howard William and Ruth Naomi (Clark) Rogers. At the age of eight, he moved with his family to upstate New York, where his parents had purchased a small 70-acre farm in Lyndonville. He was a graduate of the L.A. Webber High School, Class of 1957, where he served as senior class president.
He then headed to Clarkson University, Potsdam, New York, where he became the first college graduate in his family upon earning a Bachelor of Science degree in Chemistry in 1961. As a member of the Zeta Phi chapter of Alpha Chi Ro (AXP) fraternity, Jim served as chapter president and developed lifelong friendships with his brothers that exist to this day.
Upon graduation, Jim made his career in chemical and plastics marketing and sales, holding leadership positions at Union Carbide, Merrill Lynch, and Conoco/Dupont/Vista Chemical, retiring in 1994. He also worked at the Harris County (TX) Appraisal Review Board in later life.
On July 11, 1964, Jim married Sally Ann Matt in Cleveland, Ohio. They met while they both were working at Union Carbide. And, despite Sally's best attempts to fix Jim up with a number of her friends, the attraction between them was undeniable, and they celebrated their 55th wedding anniversary in 2019. Together they raised two children, Erin and Jim, Jr., moving as a family from Cincinnati, Ohio to Howell Township, New Jersey, and then to Downers Grove, Illinois, where they enjoyed "a wonderful life".
Once the children had moved on to college and graduate school, Jim and Sally transferred to Katy, Texas in 1988. As new residents in the area, they were charter members of the Kelliwood Dinner Group, where to this day they've enjoyed countless meals and events together with an intimate circle of close, long-time friends. After nearly 30 years in their dream house, Jim and Sally recently moved to Oak Park Retirement Resort where they discovered a second family of friends, and where Jim was known to remark that he had never laughed so much in his life.
A true gentleman, a man of honor, the consummate well-dressed man, a world-class ice cream aficionado and chocolate chip cookie lover, Jim is survived by his loving wife, Sally of Katy, TX; his adoring daughter Erin Eileen (Rogers) Vadala, her husband Gene, and grandson, Owen Henry, of Rowley, MA; his devoted son James W. Rogers, Jr., his wife Lisa, and granddaughters Rebecca Ann and Emma Katherine, of Elmhurst, IL. He was predeceased by his older brother, Howard Clark Rogers, on January 18, 2018.
Relatives and friends are invited to attend a "Chicago Cubs-themed Celebration of Life" on Saturday, March 21st at 1:30 PM at the Oak Park Retirement Resort at 1921 S. Mason Road, Katy, Texas 77450; attendees are encouraged to wear their finest Cubbie blue attire.
In lieu of flowers, donations may be made to the Zeta Phi chapter of AXP in Jim's memory at the following link – Donate to AXP Zeta Phi in memory of Jim Rogers '61